Annacia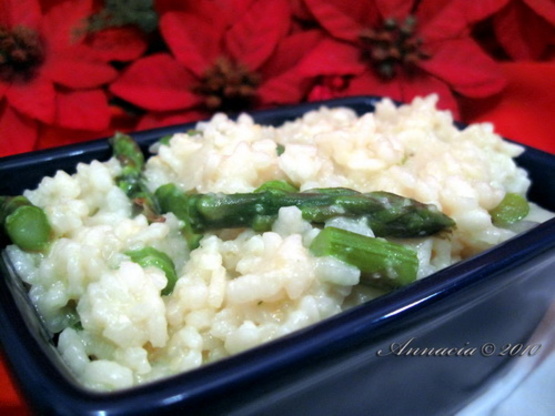 This was one of my dad's recipes. You can always freeze unused parts of the asparagus for soup or stir frys. This is a quick and easy risotto to make. No fuss no muss you make it in the microwave in one dish. Very, very tasty. I hope you enjoy this dish as much as we do.

This was the perfect side for lemon herb chicken breasts. The arborio came out fluffy and tender but not mushy. I used the veggie broth. This recipe could easily be the star of the table, it has wonderful flavor and the asparagus was cooked beautifully. What a treat! The parm is a must in my opinion. I didn't have any mushrooms but they will be added the next time I make this. :D
Using a 3 quart dish, combine onion, mushrooms, oil and butter.
Cover and place in microwave on high for 5 minutes.
Stir in rice, broth, wine and turmeric.
Cover again and microwave on high for 15 minutes.
Cut asparagus into 1 inch pieces.
Next, stir rice mixture and microwave on high uncovered for 10 minutes.
Now with a fork toss the asparagus into the rice.
Cover and microwave on high for 5 minutes more.
Remove the rice from the microwave and let stand (covered), for 5 minutes.
Stir in the parmesan cheese with fork and season with salt and pepper.
Enjoy!