ImPat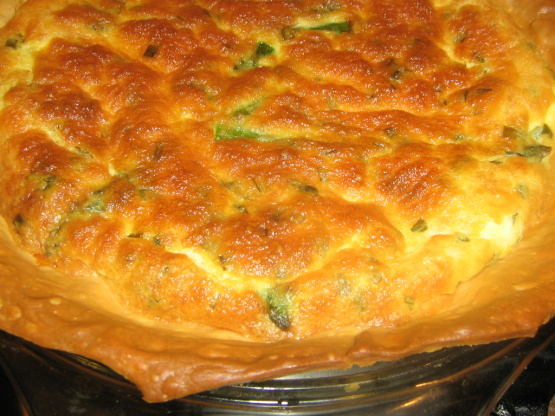 A creamy quiche best made with fresh asparagus. Cook time includes pastry resting time.

Top Review by ImPat
I made this for the DM and friend who was keeping her company while the DH and I went to the movies and dinner. They thoroughly enjoyed and the DM's friend couldn't believe there were only 2 eggs in the quiche and this is the first time I have made a quiche without cheese (seemed almost sacrilegious). I did use a commercial pre-rolled short pastry sheet which out of sheer habit I precooked weighed down with baking beads for 7 minutes at 200C, removed beads and cooked for a further 4 minutes at 175C. Put the lightly boiled asparagus (which was still crispy but not raw) into the pie plate and poured the creamed/egg mix over, having used fresh garlic chives from the garden with some freshly ground pepper. Baked at 175C for 35 minutes and it was perfect. DM's friend gave the slices a reheat and served with the garden salad and coleslaw on the side that I had made. Thank you sugarpea for a very nice quiche recipe. made for Bargain Basement tag game.
Pastry: In a food processor, pulse the flour and salt to mix; add the butter and egg and pulse just until ball forms; remove onto a sheet of plastic wrap; form a disk, wrap tightly and refrigerate 1 hour.
On a lightly floured surface, roll the dough into a 10" to 11" circle and fit into an 8" glass pie pan; trim away excess, crimp edges and refrigerate another 30 minutes.
Filling: Preheat the oven to 425°; blanch the asparagus in boiling salted water for 2 minutes; drain and plunge into an ice bath, drain well;.
Mix the eggs and cream; season with salt and pepper and add chives; place the asparagus on the pastry and pour in the cream mixture.
Bake for 20 minutes, reduce heat to 350° and bake another 40 minutes or until set and lightly browned; let rest a few minutes before serving.