Kathy228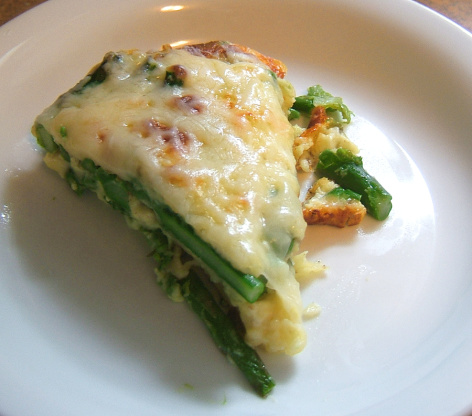 From the May 2008 issue of Everyday with Rachael Ray. This is super easy and makes a quick breakfast, lunch or dinner. She suggests that for a change, you may want to sprinkle cooked bacon into the batter.
Preheat oven to 425°F.
In a medium saucepan, add 2 inched of salted water; bring to a boil. Add the asparagus and cook until crisp-tender, about 3 minutes.
Drain and rinse with cold water, then pat dry with paper towels.
Cut the spears crosswise into thirds.
In a medium cast-iron skillet, add the butter.
Place the skillet in the oven to melt the butter.
In a medium bowl, microwave the milk on high for 30 seconds.
Whisk in the eggs, then the flour, salt, pepper, and sugar.
Add the asparagus pieces to the hot cast-iron skillet and pour the batter on top.
Sprinkle with half of the cheese and bake until puffed and golden-brown, 18 to 20 minutes.
Top with the remaining cheese.