Asparagus Pasta Salad With Parmesan Dressing
Boomette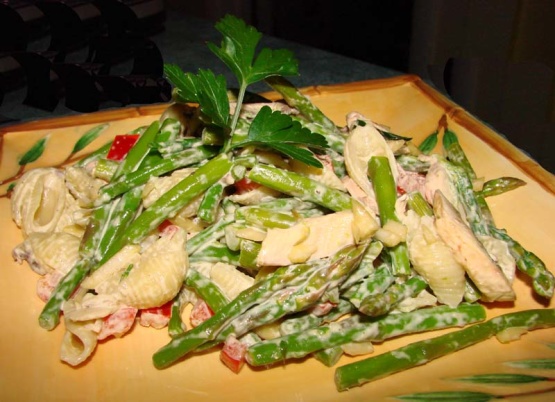 Delicious! Perfect to serve for a luncheon. This needs to chill for 2 hours before serving. The dressing is wonderful!
Boil pasta in water until firm-tender (do not overcook, leave firm!) drain, and rinse with cold water; set aside.
Steam asparagus until crisp-tender; drain and plunge into very cold or ice water; drain and pat dry with a paper towel.
Place all dressing ingredients in a blender, and blend until well mixed (adjusting all ingredients to suit taste).
Place the veggies and the cooked pasta shells in a large bowl; toss to combine.
Pour the dressing over; toss well to coat.
Add in slivered almonds and mix.
Chill in the fridge for a minimum of 2 hours before serving.