Annacia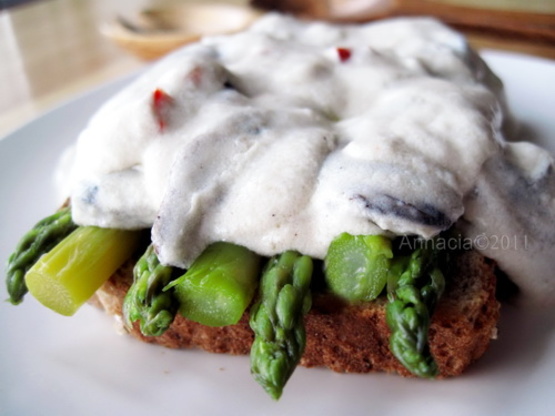 My mother-in-law and I love asparagus this way.

This make a very yummy quick and pretty light meal. I countered the butter with fat free milk and sour cream. Loved the small pinch of nutmeg and boy did it ever perfume when it hit the hot pan :D. Didn't have canned mushrooms at hand so I just sautéed some fresh cremini. Thanks for the recipe share Char
Melt butter and stir in four, salt and nutmeg.
Drain broth from mushrooms and add milk to broth to make 1-1/4 cups.
Add to flour mixture and cook, stirring until thickened.
Add mushrooms and heat through.
Blend in sour cream.
Arrange warm asparagus spears on toast.
Top with sauce and garnish with pimento.