Derf2440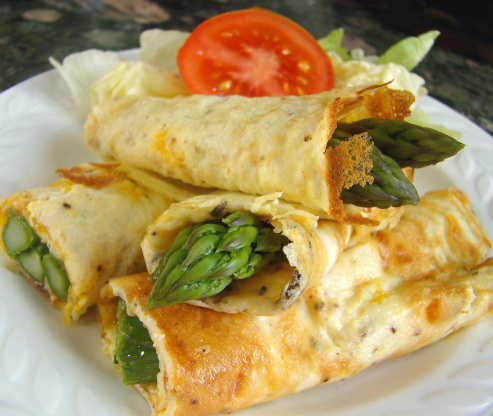 These wraps make a lovely breakfast, light lunch or entrée. This recipe was originally from a free health magazine. Makes at least 8 wraps. Serve with a little hollandaise sauce if desired. Can easily use parmesan cheese in place of the pecorino and any herbs of your preference

Top Review by ImPat
Just loved all the flavours from the herbs and the cheese and then that crispy asparagus so lovely and fresh. I did microwave my asparagus though so it made for a quick and easy breakfast. Thank you **Jubes**, made for Make My Recipe - Edition 15.
Beat the eggs in a bowl. Add the milk, sage, thyme, garlic, pecorino and season with cracked black pepper.
Lay the asparagus lengthways in a pan with just enough salted boiling water to cover the spears. Cook for 2 minutes until they are tender but still crisp.
Heat a large non stick flat pan with a little olive oil. Pour a ladle of the egg mixture into the pan and roll the pan around until the egg is thinly layered over the base and it is cooked on one side. Reduce the heat and flip to cook the egg on the other side.
Repeat until all the egg mixture is used up.
Fill the crepes with asparagus and serve with an extra sprinkle of grated pecorino.
Note: To prepare asparagus take the tender stalk in both hands; gently hold the spear end of the stalk with one hand while you snap the bottom end off with the other hand. Then trim the broken end with a sharp knife and the asparagus is ready to cook.