Asparagus-Mushroom Primavera
jenne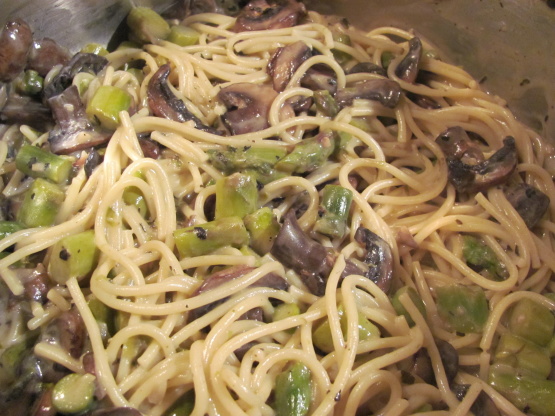 Two of my favorite things: Asparagus and mushrooms. Recipe is from Better Homes and Gardens. This makes four servings if all are satisfied with 1 1/2 cups each.

Really love this one. Easy to throw together and very fresh tasting. Left a mild tingle in our mouths from the red pepper flakes. Quite filling and something I would want to have again. Thanks,Lainey.
Snap off and discard woody base of fresh asparagus.
Rinse.
Bias-slice asparagus into 1 1/2 inch pieces; set aside.
Cook pasta according to package directions.
Meanwhile, heat oil in a large skillet over medium heat.
Add garlic and black pepper; cook and stir for 30 seconds.
Add asparagus, mushrooms, chicken broth or wine, and 1/4 t salt.
Bring to boiling; reduce heat.
Cook, uncovered, for 4 minutes or until asparagus is crisp-tender, stirring occasionally.
Remove from heat; stir in butter.
Drain pasta; add pasta to vegetables in skillet.
Toss gently to combine.
Garnish with basil and crushed red pepper.