Asparagus & Mushroom Frittata
Derf2440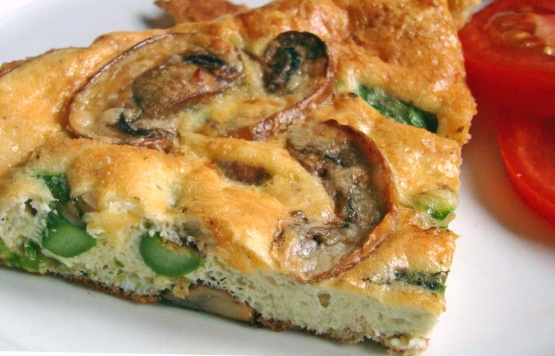 I just made this up and this was my first attempt at frittata! I love it :O) It's nice and light with big chunks of veggies! My brother even liked it and he doesn't like asparagus... Not too bad!

good frittata !! I didn't steam the asparagus , we like it crisp, so I sauteed it with the mushrooms, added the egg mixture, cheese etc., and when the bottom was starting to cook, popped it in the oven at 350f degrees for 15 minutes, it raised up nice and puffy. No need to flip. It was a delicious quick supper thanks.
Steam asparagus as directed and set aside. Melt 1 Tbsp olive oil in pan over med high heat add garlic and saute till almost golden. Add mushrooms and continue to saute till mushrooms soften. Set Aside.
Combine eggs and milk in med bowl. Whisk till well beaten. Add salt pepper and tarragon. Whisk till well blended. Add cheese and whisk till light and fluffy.
Melt 1/2 tb oil and 1/2 tbs butter on low/med heat in large pan. Add egg mixture. Once bottom starts to settle lift up sides of egg and let the uncooked slide under. Spread asparagus and mushrooms onto egg. Once most of egg has cooked or has started to get a nice light golden brown, invert onto plate and place back into pan to cook other side. About 2-3 minutes.
Slide onto platter or large dinner plate. Slice into 8 "pizza slices" (or 4 :O))and serve immediately.