Rita1652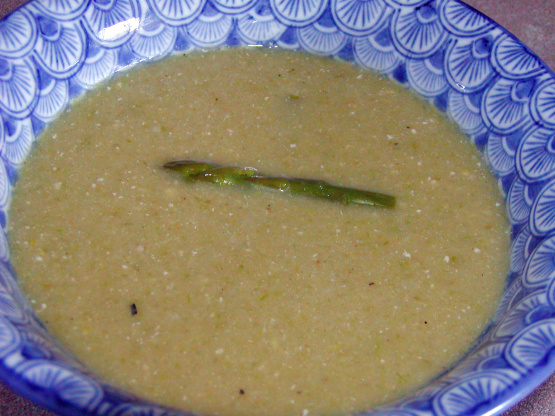 One glance at the ingredients and I just loved the sound of this recipe. When I made it, I was not disappointed. It can be served hot or cold, depending on the time of year, your personal preferences and what else you are serving on the day - or evening. Adapted from Rodale's 'Savory Soups and Stews: 100 Hassle-Free Homemade Meals'.

First of all I sauteed the onion, cut the celery to 2 stalks in olive oil until onions were translucent. Then added garlic and asparagus and continued sauteeing for 5 more minutes. Then added 1/2 cup of wine. Burned off the alcohol sauteing for about 2 minutes. Before adding stalks of asparagus I chopped off heads and microwaved in plastic bag to add at the end. Simmered until asparagus very mushy and then blended. Added 1/2 and 1/2 then lemon and asparagus tips. Thanks for all the reviews that helped make the recipe even better!
In a large pot, combine the asparagus, celery, onion and garlic with the chicken broth and - over a high heat - bring to the boil.
Reduce the heat to low and simmer for 10-15 minutes, then allow to cool slightly.
Process in a blender or food processor until smooth.
If serving hot, return to the pot, stir in the remaining ingredients until well-combined and heat the soup until warm. Do not allow it to come to the boil.
If serving cold, transfer to a serving dish, stir in the remaining ingredients until well-combined.
Serve with warm crusty rolls.