Asparagus in Soy Cream Sauce (Zwt II - Asia)
HeidiSue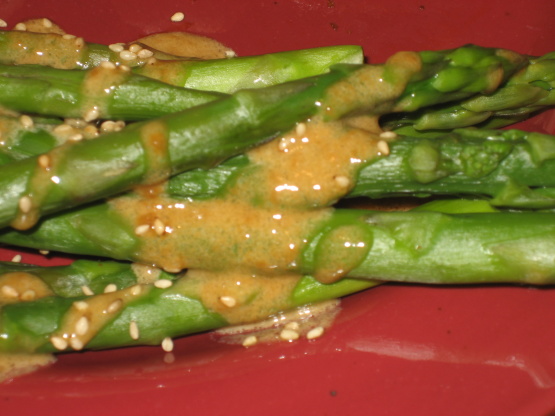 This recipe has been entered for ZWT II & was found on the net courtesy of The Straits Cafe at: straitscafe.com. It is so easy to prepare & the name kinda says it all, doesn't it? Times have been estimated.

Amazingly simple and delicious, but a warning....the sauce will disappear, so make double!! Now one of my favorite ways to prepare one of my favorite veggies. Thanks for sharing! Made for Football Tag 2014 at Yuku.
Bend ea asparagus stalk till it snaps at its tenderest point.
In a med-sized skillet, bring 1 cup water to a boil. Add asparagus & reduce heat to med. Cook for 5 minutes. Remove asparagus w/a slotted spoon to a serving platter.
Return the remaining water in the skillet to a boil & reduce liquid to about 2 tablespoons Add soy sauce, butter & cream. Stir & remove skillet from heat.
Pour the cream sauce over the asparagus & garnish w/toasted sesame seeds.