Asparagus in Creamy Orange Maltaise Butter Sauce
Nimz1466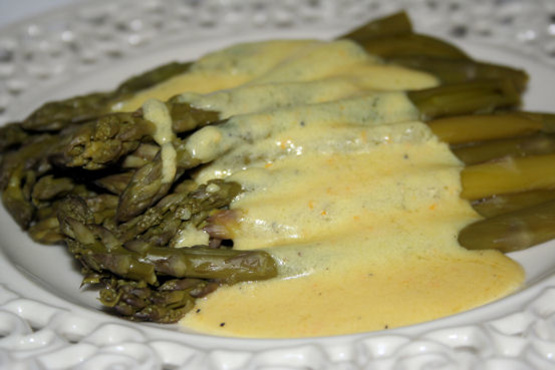 This is a recipes from a small book of great recipes called "Salads and Summer Dishes". I borrowed it and have made many of the recipes so far,with excellent results so this one is on the "to do" list. Maltaise sauce is a variation on the traditional Hollandaise sauce, but orange juice is added for a slightly different take, in flavour and colour to an old classic. Posted for ZWT REGION: France.

OMG this was awesome. The flavor of the orange and lemon just was fantastic. I was a little confused by the way the recipe instructions were written in that it says to beat the butter, egg yolds, salt, pepper and orange rind together. But then it says to add the butter a little at a time. So I mixed the egg yolks, s/P together then added the juice and slowly added the butter. Very nice. I severly overcooked my asparagus because of unexpected company, but it tasted great anyway. Thanks kiwi
Wash the asparagus and snap off the ends to remove the tough part of the stalks. Tie the asparagus into bundles of 6-7 stalks and boil them for 10-15 minutes standing upright in a pan of hot water. Drain well.
To make the sauce, in a small metal bowl or pot beat the butter, egg yolks, salt, pepper and orange rind together. Place over a larger pan of hot water and whisk in the orange and lemon juice cooking over a gentle heat while adding the butter a LITTLE at a time, so that it thickens, don't rush this, becuase if the previous amount of butter has not emulsified before the next lot is added, the sauce will split.
Once it begins to thicken, remove from the heat and continue beating for a full minute, then stir in the cream.
Mix together well, the orange juice should have turned the sauce a soft shade of pink. Pour the sauce into a sauce boat and serve with the bundles of asparagus immediately.
Decorate the asparagus bundles with orange twists.