twissis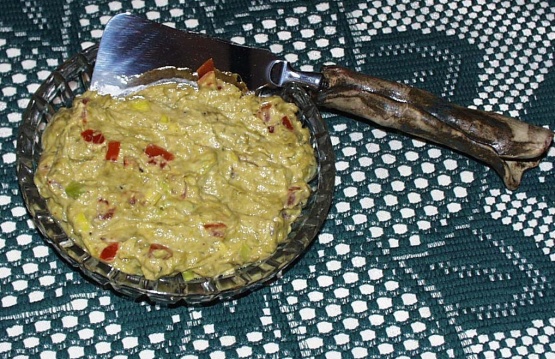 What a great twist on regular guacamole! You could use sour cream instead pf plain yogurt. Feel free to experiment! Have fun!

I had oodles of asparagus to use and came across this great recipe. I'm vegan so made the following changes. No yogurt--subbed in 2 T plain hummus. Also left out the oregano and cayenne going for a more traditional guacamole flavor. WOW! Crazy cool how great this tastes with just a tiny fraction of the calories and fat of regular guacamole. We'll be making this "Not-camole" a lot I'm sure. THANKS!
Combine asparagus and water in a 2 quart saucepan.
Bring to a boil over medium high heat. Cover and reduce heat to medium-low.
Simmer 8 to 10 minutes or until tender.
Rinse with cold water; drain.
Blot asparagus with a paper towel to remove excess moisture.
Combine asparagus, yogurt and lemon juice in food processor or blender.
Process till smooth.
In a medium mixing bowl, combine asparagus mixture and remaining ingredients.
Chill, if desired.
Serve with raw veggies or tortilla chips.
Enjoy!