JenPo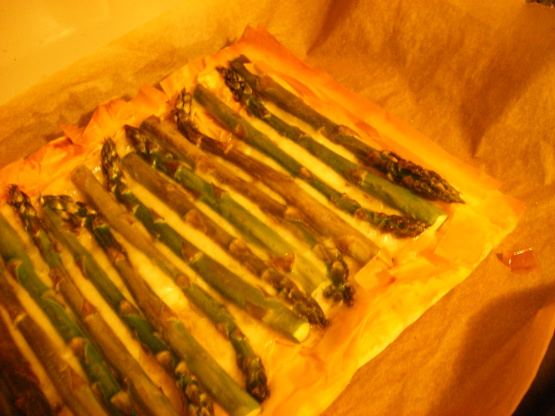 From Everyday Food. This is very simple and works great as an appetizer. I have substituted swiss with good results.

I absolutely loved this tart! I used about 1-1/2 cups of a gruyere-swiss cheese blend, and freshly ground coarse salt and pepper. Use a good quality olive oil if you can; I think it makes a difference in this recipe. Thank you, I will be making this again soon!
Preheat oven to 400°. Roll the pastry into a 16-by-10 inch rectangle and place on a parchment-lined baking sheet.
Lightly score the dough with a knife 1-inch from the edges to form a rectangular outer edge. With a fork, pierce the dough inside the edge at half-inch intervals. Bake until golden, about 15 minutes.
Remove the pastry from the oven to scatter the cheese on top. Alternate the asparagus tip to end in a single layer on the cheese.
Brush with oil and season to taste. Bake until asparagus is tender, which will take about 20 to 25 minutes.