Asparagus Frittata With Rocket (21 Day Wonder Diet: Day 6)
Sara 76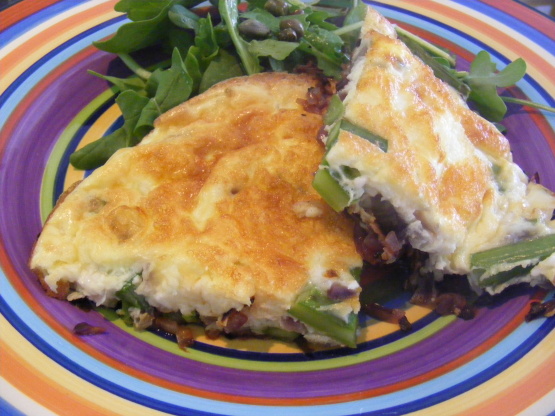 This is Day 6: Lunch, on the 21 Day Wonder Diet. You can serve this frittata hot or cold, and it can be made the night before, so you can take it to work the next day! This lunch is to be followed by an afternoon snack of 1 small apple.

For a "diet" frittata, this tastes great! The only thing I left out is the capers, as we don't like the taste. Served with a large green salad and baby potatoes boiled.
Preheat grill.
Spray small frying pan with cooking oil; cook onion over heat, stirring, one minute. Add asparagus; cook, stirring, 2 minutes.
Meanwhile, combine eggs, egg whites, and cheese in a medium jug. pour over asparagus mixture in pan. Cook, uncovered, about 5 minutes or until frittata is browned underneath.
Place pan under grill for about 5 minutes or until frittata is set.
Combine remaining ingredients in a bowl, serve frittata with salad.