Debber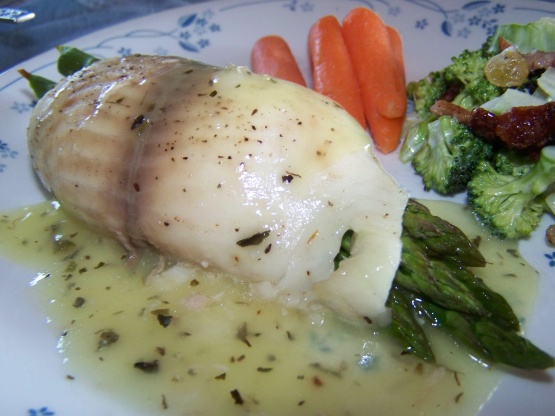 found in Light and Tasty Magazine.

Top Review by Debber
I wish you could've seen the look on DH's face when I brought these to the table. Something between shock and incredulity! Like, "what have you done now?" I hardly ever make anything "fussy" and altho' this recipe hardly qualifies as "fussy"...to him anything rolled and having asparagus sprouting out qualifies as "fussy." But he was singing a different tune after he finished it off! He told me to "give it five stars." I used tilapia because that's what I buy; I also added some dry chicken bouillon to the broth for a bit more flavor. Oh, but I forgot the onion--I just realized. Well, such is life in my kitchen! :-) *Made for PAC Spring 08*
Wrap each fillet around 5 asparagus spears; secure with toothpicks. Place in 13x9 inch baking dish coated with non-stick cooking spray. Sprinkle with salt and pepper.
Cover and bake at 350 degrees for 15 minutes. Uncover and sprinkle with green onions. Bake, uncovered, for 12-15 minutes longer or until fish flakes easily with a fork and asparagus is crisp-tender.
Meanwhile, in a small saucepan, combine the sauce ingredients until blended. Bring to a boil; cook and stir for 1-2 minutes or until thickened.
Discard toothpicks from fish; serve with sauce.