Ms B.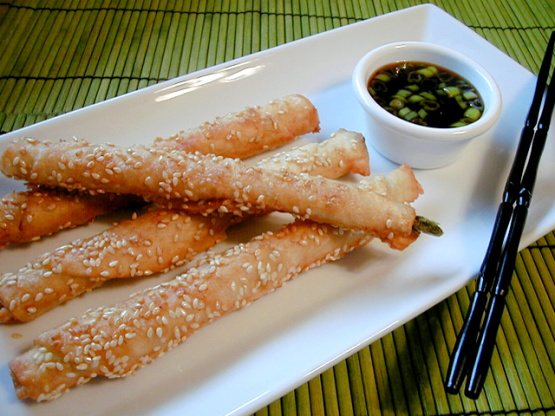 From the December 2005 issue of Gourmet magazine. They state that these crisp, crunchy hors d'oeuvres are sure to turn heads at your next party.

I am giving it four stars because this is the first recipe that would make me even go near asparagus! For purists, I am sure this is too much, but for those of us who go a whole lifetime w/o asparagus, this was quite delicious! The sauce is a definite keeper as I liked the lime juice (used bottled not fresh) change of pace. My tortillas were not very forgiven, so mine did not turn out as neat as the picture, but that will change next time once I buy a different brand. And there will be a next time. Thanks, ms bold!
Trim asparagus to 6-inch lengths.
Beat egg with pinch of salt.
Halve tortillas. Brush 1 half with some of egg mixture and place 1 piece asparagus along cut side. Tightly roll up tortilla. Insert 1 pick crosswise to secure. Brush outside of roll with more of egg mixture and sprinkle with sesame seeds. Roll remainder of asparagus is same manner.
Heat 1/2 inch of oil in a 10-inch heavy duty skillet to 350°F.
Fry rolls in batches of 3, turning over once, until golden brown, about 3 minutes per batch, returning oil to 350F between batches. Transfer to paper towels to drain.
Stir together remaining ingredients until sugar is dissolved. Serve with rolls.