Ricky 1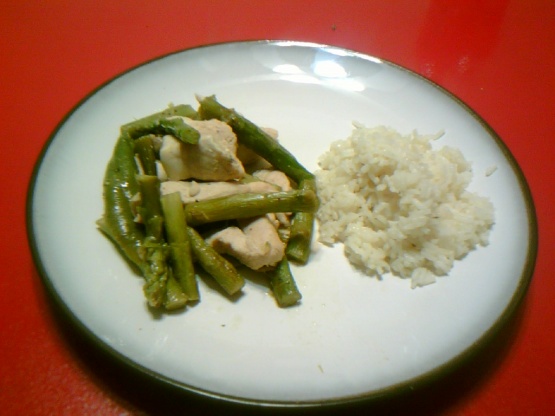 A wonderful recipe for asparagus season! Don't let the long list of ingredients stop you from trying this recipe -- it goes together easily.
Slice chicken in thin strips. Heat 4 tbsp of oil in large pan. Stir in chicken and saute until chicken is thoroughly cooked and no longer pink. Remove and keep warm.
Split asparagus lengthwise, then cut into 1 1/2 inch lengths.
Heat remaining 2 tbsp vegetable oil in same pan. Stir in asparagus and onions. Saute 2 minutes. Stir in chicken, mushrooms & liquid, chicken broth, ginger, salt, sugar, and garlic powder, cover. Simmer 3 minutes.
Mix cornstarch, sherry and soy sauce until smooth in cup, stir into mixture in pan. Cook, stirring constantly until mixture thickens and boils 3 minutes. Serve over rice.