Asparagus Bundles With Prosciutto & Goat Cheese
BarbryT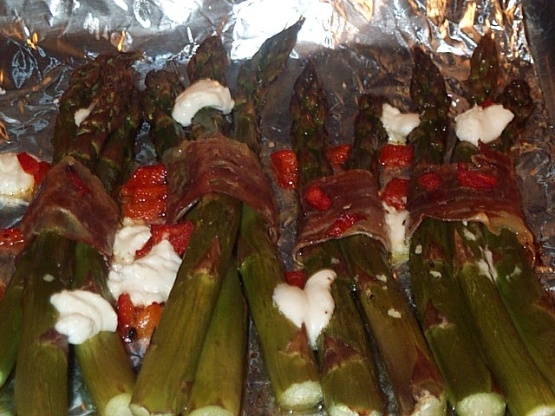 Asparagus is one of my favorite vegetables any way you prepare it but wrapped in prosciutto, drizzled with olive oil and baked with cheese - oh my! This dish makes a beautiful presentation!

This was so delicious !The goat cheese I used had wonderful italian herbs blended in. So, wow ! oh, and easy, easy, easy. and of course you can't overlook the so easy clean up ! Thanks !!
Preheat oven to 450°F.
Line a 15-inch X 10-inch baking pan with foil.
Wrap asparagus spears in bundles of 3 or 4 spears with strips of prosciutto around the middle.
Place bundles in a single layer on baking pan tucking under ends of prosciutto.
Drizzle with olive oil; sprinkle with salt and pepper; top with roasted red peppers.
Bake for 8-10 minutes or until asparagus is crisp tender.
Sprinkle with cheese and continue baking for 5 minutes or until cheese is soft.