Asparagus Breakfast Casserole
akgrown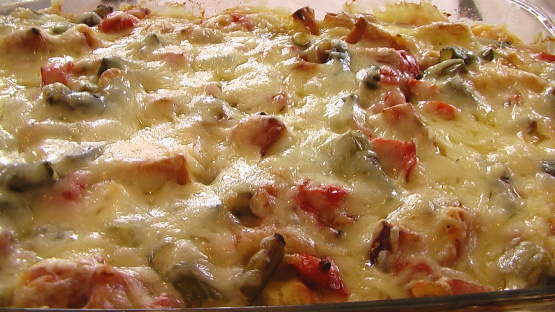 This is sooo good. The asparagus is a nice change. Great for that special Brunch. Plan ahead, needs to refrigerate 12-24 hours before baking.

FANTASTIC! You should have more than 5 Stars. I took this casserole to work for one of our monthly breadfasts. I did have to make a dash of changes. They are mostly Vegetarians. (No ham or other meat.) I added a wee more fresh aspargagus. I had steamed my asparagus and didn't add them while doing step 3. (I didn't want them over-cooked) However, while doing step 3, I added 2 minced jalapeno peppers and 8 oz sliced mushrooms. (Seasoned with garlic powder, salt and black pepper) [no ham, no marjoram] I used thin long Italian bread (When sliced almost every little square had a bit of crust) I followed the instructions. My casserole took 50 min. I added the last cup of cheese. I topped it with some asapargus spears I had set aside. Also, I added some cherry tomatoes, that I had cut in half. (A dash of color) I popped into the oven for 6 min. and took it to work. It was perfect! I had to give out your recipe to many. Thank you for a "keeper". I've put the recipe in my "favorites". Can't wait to make it for the holidays. Thank you.
Spray 9x13 pan with non-stick cooking spray.
In a medium skillet, melt butter over medium heat.
Add steamed asparagus, red pepper and onion.
Cook 3-5 minutes, stirring occasionally.
In the prepared pan layer bread, ham, vegetables and 1 cup cheese.
In a large bowl combine eggs, milk and seasonings.
Pour evenly over bread mixture.
Cover and refrigerate 12-24 hours.
Bake uncovered at 350 degrees 45-55 minutes, until golden.
Sprinkle remaining 1 cup cheese evenly over top and bake until cheese melts.
Let cool 10-15 minutes before cutting.