Asparagus, Bean and Pistachio Salad
Lusenda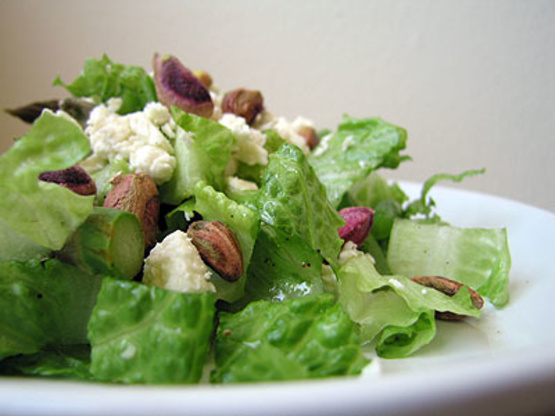 This falls under the category: Impress the Company! On the other hand, I don't recommend waiting until company comes to try this. It can be prepared ahead of time, adding lettuce, nuts and dressing just before serving. You could also use ricotta salata cheese instead of goat cheese. Go easy on the dressing as per the recipe, as I found it really didn't need much. It's adapted from a recipe found in the New York Times Magazine.

What can I say-the sum of its delightful parts results in an outstanding salad. My goat cheese was the very soft variety and we loved the way it "melted" into the oil and vinegar, making a marvelous dressing. I don't know how you improve on crunchy, toasted pistachios.
Bring a pot of salted water to a boil, add asparagus and green beans and cook until just tender, about 3-5 minutes, or until desired tenderness. Let cool.
Rub a bowl with the garlic clove and add asparagus, beans, lettuce, pistachios and cheese. Sprinkle with vinegar and oil, then add salt and pepper.
Toss until evenly dressed. Taste and adjust seasoning, if desired.