jenne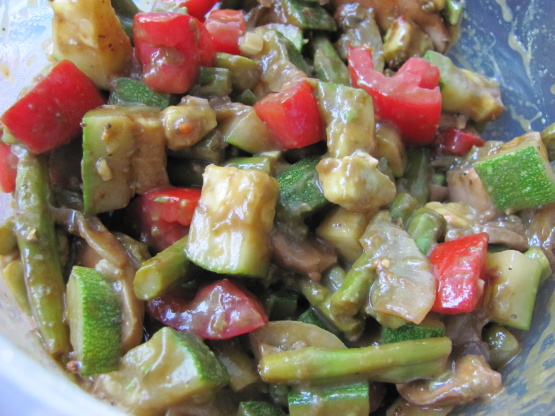 from Taste of Home's Light and Tasty 203 recipe cookbook received from BusyMomof3 in the 2011 Cookbook Swap. They note that they used a 850 watt microwave and the diabetic exchanges are 2 vegetables and 1 1/2 fat.

I changed the salad around quite a lot, but followed the recipe for the dressing, so the rating is for the dressing. I used the dressing on a salad of briefly cooked green asparagus, avocado, thinly sliced cucumber and cooked sweet potato chunks. I spooned the dressing on top of the vegetables, rather than mixing it in. I was very happy with the flavor, and will make this dressing again. Thank you very much for posting this recipe.
Place asparagus and 2 tablespoons water in a microwave safe dish and cover and microwave on high for 3-6 minutes or until crisp-tender stirring once, drain and cool.
In a large bowl, combine the asparagus, mushrooms, avocado, zucchini, tomato and onion and toss gently.
In a jar with a tight fiting lid, combine the remaining ingredients; and shake well and then pour over salad and toss gently to coat.
Cover and refrigerate until serving.