Asparagus and Yukon Gold Potato Soup With Roasted Tomatoes (Spar
KateL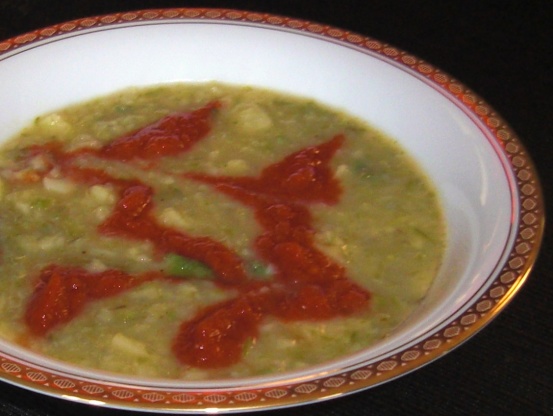 Posted for Zaar World Tour 2005. This would make a very pretty "spring" soup. From The Swedish Table by Helene Henderson. She recommends peeling the tomatoes but I probably wouldn't bother. I have not tried this recipe yet.

Top Review by KateL
3 Stars, I would make changes to this the next time. I really like all the ingredients, but the potato-asparagus soup had a wimpy taste, and wasn't as mellow as I would like to contrast with the spicy sauce. The red sauce was quite spicy, a good contrast, but I would have to develop an alternative sauce for my guests to have a choice. I used Emeril's vegetable stock, but I think a really intense vegetable stock is needed. How about carmelizing the onion with garlic before cooking the potatoes? Cream and dry sherry could enhance the soup. I cooked in a 5-quart skillet, but the immersion blender created a mess, so I need to remember to use a taller and narrower container next time. For this soup, I would cook 6 additional asparagus and reserve 1 1/2" of the tip of the asparagus on 12 stalks for garnish on top of the sauce. I would put the potato-asparagus soup in the blender to make completely smooth, and add the crunchy texture with the reserved asparagus tips. (I would rinse out the blender before making the spicy sauce; it is important that the colors remain distinct.) I am not an authority on vegetable soups, but I would try at least 2 of the possible changes next time I tried this. I will watch out for suggestions by other cooks. Made for Sept 2008 Veg*n Swap.
Preheat oven to 350 Fahrenheit.
Place tomatoes cut side down in metal broiling pan for 20-25 minutes or until lightly seared and skins begin to curl.
Meanwhile, in a large pot combine olive oil, potatoes and onion. Cook on low to medium heat, stirring often, until onion is translucent and potatoes begin to soften, about 6-8 minutes.
Add asparagus and cook 2-3 minutes more. Season lightly with salt and pepper.
Add broth and simmer until potatoes and asparagus are just done, about 3 minutes.
Using an immersion blender or conventional blender, process soup for a few seconds until blended but still chunky. Add lemon juice and additional salt and pepper if needed.
Peel and discard tomato skins (if desired). Transfer tomatoes to a food processor or blender and add chipolte pepper (or hot sauce), Worcestershire sauce, vinegar and sugar. Process until smooth.
Ladle asparagus soup into bowl and garnish with generous tablespoon of tomato mixture.