Asparagus and Spring Greens Carbonara
Rita1652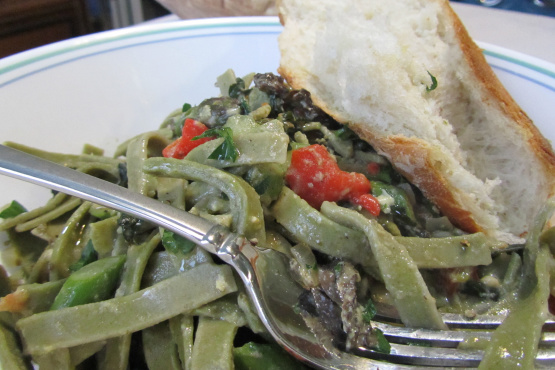 A very inexpensive healthy meal. Just picked a bunch of spring goodness. Dandelions, sorrel and garlic chives. Had Asparagus, spinach noodles and eggs. Tossed together and came up with this vegetarian recipe for carbonara. Be sure to wash and spin your greens well. If you enjoy meat you can cook the 1/2 pound bacon until crispy, remove the bacon and drain on paper towels. Pour off all of the oil except for 2 tablespoons. Using the bacon fat in place of the oil and butter.
Cook noodles according to package directions.
Soak morels in 1 cup hot water for 5 minutes. then strain saving liquid discarding any sandy grit. Slice large morels leave little ones whole.
In a large pan/pot heat oil and butter and saute onion for 5 minutes.
Add garlic, asparagus, garlic chive or regular chives, and morels and saute for 5 minutes.
Add the greens and the hot broth from the mushrooms stir to wilt.
Toss in fire roasted peppers.
Season with salt, pepper and red pepper flakes, remember to go easy on the salt because the cheese is salty.
Mix the cheese and eggs together.
Toss in the hot cooked noodles into the veggies.
Immediately stir in the egg mixture to coat the noodles and let cook and coat all the ingredients.
Toss in fresh parsley.
Plate immediately topping with cheese and fresh cracked pepper.