Asparagus and Salmon With Dill Cream
JustJanS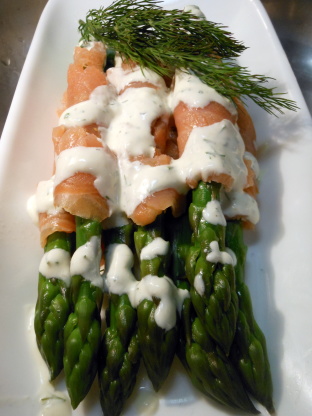 From the Australian magazine New Idea. Photo is a half recipe and it was a delicious appetiser.
Boil, steam or microwave asparagus until just tender. Drain, rinse under cold water until cold, then pat dry with absorbent kitchen paper.
Wrap one piece of smoked salmon around each spear; place on a serving platter.
To make the dill salad cream, combine all the ingredients in a small bowl; stir until smooth.
Drizzle some of the cream over the spears, garnish with dill sprigs and serve the remaining cream seperately.