Asparagus and Mushroom Frittata
Bergy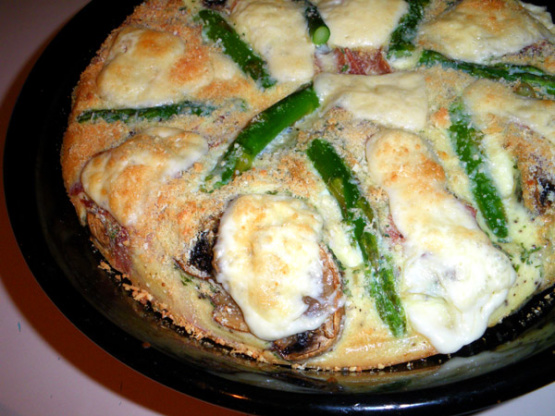 This frittata combines two of my favourites vegetables, asparagus and mushrooms. You can serve it for brunch or for a light dinner with a salad.

Top Review by Bergy
Well I went to the store to get mushrooms and Asparagus, got home no mushrooms - The woman behind me must have ended up with them. I had two large mushrooms at home so I cut them up but that looked a bit skimpy so I added 4 thin slices of prosciutto chopped I browned the mushrooms as suggested and then baked the Frittata in 375 oven for 25 minutes - I added the cheese half way through the baking when the egg was set but not fully cooked . Lovely dinner thanks Irngard
In a large skillet with an ovenproof handle, heat 1 tablespoons each of the butter and olive oil over high heat; cook the mushrooms and garlic, stirring often, for about 2 minutes or until the mushrooms are softened.
With a slotted spoon, remove to a bowl and set aside.
Drain the liquid from the skillet; heat the remaining butter and olive oil over medium heat, swirling to coat the pan.
Combine the eggs, parsley and pepper; pour into the skillet.
Cover and cook over medium-low heat for 5 to 7 minutes or until the top is almost set.
Sprinkle with the mushroom mixture; arrange the asparagus like wheel spokes on top.
Sprinkle with the mozzarella, then with the Parmesan.
Broil until the cheese melts and is lightly browned.