Boomette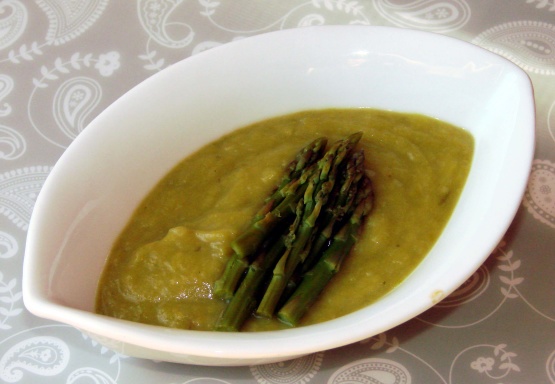 I love all these vegetables. leeks, asparagus are two of my favourites. Low fat and so tasty. I got this recipe from Daily Diabetic recipes.com.
This is a wonderful recipe. So healthy and green. It was very easy to do. What is great is that there is no cream in it. We ate it without the parmesan because I forgot to add it. And we liked it a lot even without it. Thanks Lorrie :) Made for healthy tag game
Trim asparagus; cut stalks into pieces and set tips aside.
In large non-stick saucepan, heat oil; saute garlic, onion, leeks and asparagus stalks just until softened, approximately 10 minutes.
Add stock and potato; reduce heat, cover and simmer for 20 to 25 minutes or until vegetables are tender.
Puree in food processor until smooth.
Taste and adjustseasoning with salt and pepper.
Return to saucepan.
Steam or microwave reserved asparagus tips just until tender; add to soup.
Serve sprinkled with Parmesan cheese.