Asparagus and Gruyere Tart
Prep 10 mins
Cook 25 mins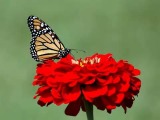 I love the nutty flavor of gruyere cheese and this recipe sounds absolutely delicious. How can you go wrong with puff pastry, asparagus and gruyere cheese - YUM!!! I found this recipe on the web and I plan to try it as soon as I can get my hands on some fresh asparagus.
Directions
Roll out the puff pastry sheet to a 16 x 10 inch rectangle. Score a line around the puff pastry 1 inch from the edge. Brush the mustard around the inside of the cut. Sprinkle the cheese over the mustard. Arrange the asparagus in a single layer over the cheese. Season with salt and pepper. Brush the outside inch of the pastry with the oil. Bake in a preheated 400 degree oven until the asparagus is tender and the pastry is golden brown, about 15-25 minutes.
Reviews
Most Helpful
Since this was only for me (DH really doesn't have a clue as to what he's missing by being so dang picky) I made a half recipe in a round pan with the asparagus tips to the center. It came out beautiful and delicious. It's something that could be very versatile and used as an appetizer, side, cut into smaller cocktail squares, part of a brunch, etc. The fresh asparagus really shines, it's not difficult and so so worth the small amount of effort. Truly an A+ recipe!