Pneuma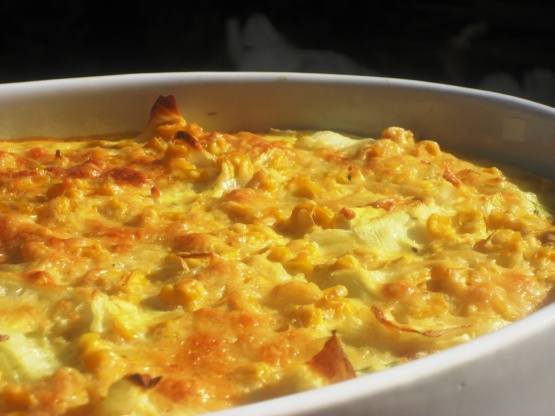 Sounds yummy and wanted to put it here as I am tossing the book it comes in.

Top Review by Pneuma
At first I was hesitant about putting too much shallots afraid that it might taste more like raw onions. But I still followed the recipe as is and was glad that I did since the mixture was just fantastic and the cooked onions were good. It tastes like corn quiche, and the outcome looks perfect! Thanks for a wonderful recipe, Sonya!
Steam or microwave fresh asparagus until just tender; cut cooked or canned asparagus into 3 cm lengths.
Trim crusts from bread, cut bread into 3-4cm squares.
Place bread squares over base and sides of a 8 cup (2-litre) greased ovenproof dish.
Sprinkle bread with half the cheese.
Top with asparagus and shallots.
Beat eggs in bowl; beat in corn, milk and mustard.
Pour mixture over shallots; sprinkle with remaining cheese.
Brush exposed bread edges with melted butter.
Bake at 180c for about 50mins, or until just set in centre.
Stand 5-10mins before cutting into squares.
Serve warm, sprinkled with extra shallots.