2Bleu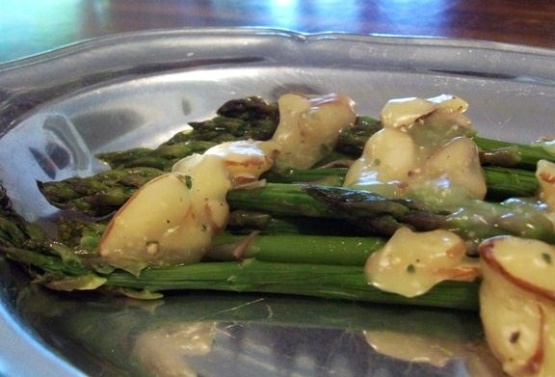 this is very elegant and easy to make. The sauce is light and can be used on a variety of other vegetables as well.

This is absolutely delicious and definitely worthy of company and for holiday family dinners. We used low sodium chicken broth and would next time add a tad of salt to bring out the flavours more and perhaps add a dash of lemon juice as well. But really - these are very minor recommendations - the dish is fantastic just the way it is. We used raw whole almonds and did not blanch them which added a tad more almond flavour as well. It is one of the recipes that somehow are more than the sum of their parts.
Place almonds in med skillet and spray with nonstick cooking spray. Cook over med-high heat, stirring frequently about 5 minutes till golden. Set aside.
In a small cup, blend cornstarch into 1 tbsp chicken broth, set aside.
Add asparagus and remaining chicken broth to the skillet containing the almonds. Bring to boil, Reduce heat, cover and cook 4 minutes.
Remonve asparagus carefully to serving plate. cover to keep warm. (they will continue cooking). Into the skillet, stir in cornstarch mixture, lemon peel, and pepper. Stir continuously for about 1-2 minutes till sauce is slightly thickened.
Gently pour sauce over asparagus and garnish with additional slivered almonds and fresh lemon wedges.