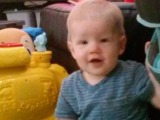 This recipe was one of my Aunt Ely's favorite veggy dishes to make for her family. I hope you enjoy it as much as we have. This recipe is also in my family's cookbook, the one I revised 2 yrs ago for our family reunion.
Directions
Cut off the hard ends first.
Lay asparagus in shallow baking dish.
Drizzle with 2 Tablespoons of olive oil.
2 teaspoons chopped fresh thyme (or regular dried), 1/2 teaspoons salt and 1/8 teaspoons of black pepper.
Then roast in a 425 degree F oven for 15 minutes.
Then serve and enjoy.
Most Helpful
Great recipe. I loved the thyme addition to these. Thank you for sharing this recipe with us.

Like my daughter said, "I hate asparagus and this tastes great". A winner in my house and the only way I'll be cooking asparagus from now on, at least when my daughter visits. Thanks so much for posting, we all really liked this.
This was great. We did 13 mins in a toaster oven. Will use again - thank you!