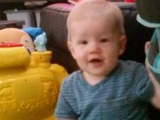 This recipe was one of my Aunt Ely's favorite veggy dishes to make for her family. I hope you enjoy it as much as we have. This recipe is also in my family's cookbook, the one I revised 2 yrs ago for our family reunion.
Directions
Cut off the hard ends first.
Lay asparagus in shallow baking dish.
Drizzle with 2 Tablespoons of olive oil.
2 teaspoons chopped fresh thyme (or regular dried), 1/2 teaspoons salt and 1/8 teaspoons of black pepper.
Then roast in a 425 degree F oven for 15 minutes.
Then serve and enjoy.
Reviews
Most Helpful
Great recipe. I loved the thyme addition to these. Thank you for sharing this recipe with us.

This was great. We did 13 mins in a toaster oven. Will use again - thank you!
I made this recipe as part of mine and my SO's dinner on 3/30/14.And since it was just the two of us, the recipe was reduced by half and it worked perfectly. This would be an easy and perfect recipe for a beginner cook to follow. Thank you for posting and " Keep Smiling :) "