Asian Vinaigrette Salad Dressing
gemini08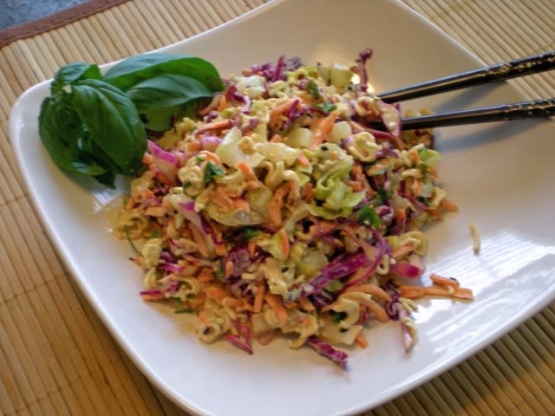 This is simple to throw together, light and tangy. I often vary the ingredients, using honey or orange juice instead of sugar, adding wasabi powder -- whatever I'm in the mood for. The joy of cooking is being creative! If you wish to substitute the oil, use a bland vegetable oil, extra virgin olive oil or "light" olive oil. Regular olive oil is too strong for this recipe.

I didn't add the scallions or sesame seeds at the end, and I used 1/2t of dried ginger, but this was YUMMY! Served over a salad of field greens, chicken tenderloins, avocado, and mandarin oranges.
44.37

ml rice wine vinegar

14.79

ml sugar

44.37

ml soy sauce, pref. low-sodium

14.79

ml ginger, fresh grated

2.46

ml garlic, fresh minced

29.58

ml sesame oil

118.29

ml peanut oil or 118.29 ml grapeseed oil

14.79

ml sesame seeds, lightly toasted

14.79

ml scallion, chopped (green onions)
Mix first 5 ingredients in a bowl or food processor.
If using a bowl: SLOWLY drizzle in the sesame and peanut oil, whisking constantly so that the dressing will emulsify.
If using a food processor, leave it running while you drizzle in the oil.
When dressing is well combined, add sesame seeds and scallions.
Serve immediately or refrigerate and use within a week.