NorthwestGal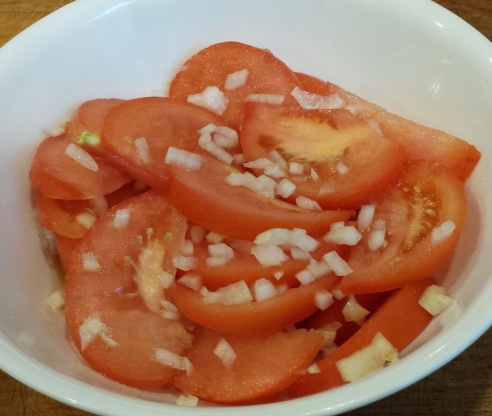 This recipe has been slightly tweaked from one by Katsuyo Kobayashi, Japan's favourite TV cooking show host and an Iron Chef winner. It is so easy to make, but to ensure plenty of flavour, use the best quality tomatoes you can get. If possible, make it ahead and refrigerate for at least an hour to let the flavours blend. This doesn't seem to keep well, so eat it the day you make it.
What a simple refreshing salad! The only thing I did a little differently was to sprinkle the salt directly on the tomatoes.
You can skip this step if you have very thin skinned tomatoes. Insert a fork into the caps of the tomatoes and plunge tomatoes in boiling water for 5-6 seconds, then immediately run cold water over them, and remove the skin.
Core the tomatoes and slice them into thin wedges.
Chop the onion finely.
Make the dressing by combining the vinegar and honey.
Arrange tomatoes on a plate, sprinkle with chopped onion, sprinkle with salt and drizzle over dressing.