Asian Style Turkey Burgers
seesko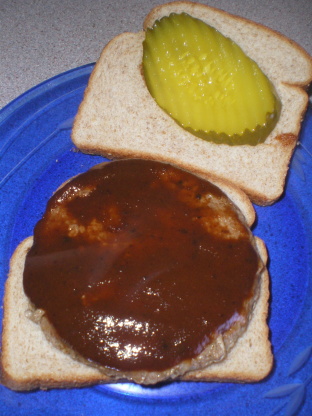 From Chef Bobo's Good Food Cookbook.

Top Review by seesko
So good! I made this exactly as stated except I served it on light bread and may of made the patties thinner than stated as I got 10 patties out of this. Next time I will eat this with a pineapple ontop as I think the flavor of pineapple would go well with this. Thanks redsie for a super way to have a turkey burger. Made for photo tag.
In a bowl, combine ground turkey, scallions, bread crumbs, 2 TB of cilantro, 1 TB of the soy sauce, ginger, and garlic. Season to taste with salt and pepper. Mix well.
Divide turkey mixture into 8 equal portion . Shape into patties.
Heat oil in a skillet over medium heat until hot. Add 4 of the patties and cook for 7 to 8 minutes. Turn patties over and cook another 8 minutes or until done (165 degrees F). Repeat with remaining 4 patties. Keep the first batch warm in a warm oven.
For the sauce, in a small saucepan combine orange juice, lemon juice, and the remaining 1 TB soy sauce. Let bubble until reduced by half. Whisk in the butter and the remaining 1 TB cilantro. Pour over burgers.