Rita1652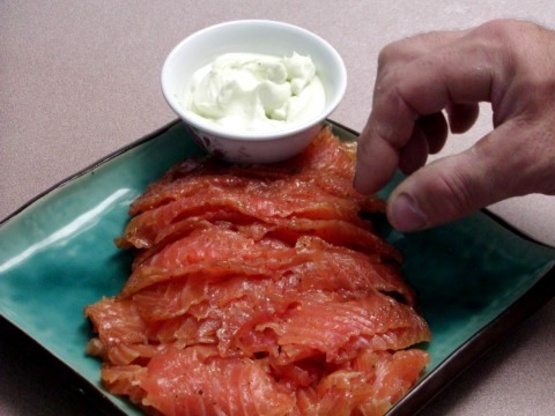 This is an appetizer that Caprial Pence serves at her restaraunt in Portland,Oregon, called the Westmoreland Bistro. They serve this with Ginger, Carrot, and Daikon Salad and wasabi creme fraiche. Be sure to slice the salmon as thin as possible when you serve it. Cook time is marinating time.
Place the salmon on a baking sheet. In a small bowl, combine salt, sugar, chile flakes, and five spice powder. Mix well. Spread the gingerroot over top and bottom of the salmon. Cover salmon with spice mixture on both sides. Cover with plastic wrap and refrigerate for 3 days, or until the fish is firm to the touch.
To serve, slice the salmon as thinly as you can with a very sharp knife(removing the slices of ginger).Serve cold with French bread and creme fraiche mixed with wasabi paste. Enjoy!