Asian-Style Chicken & Broccoli
KateL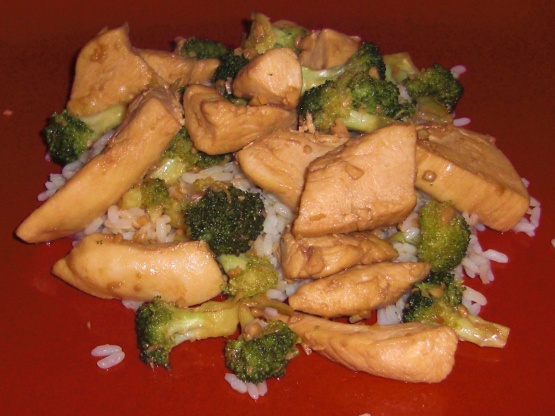 I found this on a "Works for Me Wednesday" blog entry, but I can't begin to remember where.

This recipe has a wonderful flavor. I added the minced garlic when I was stir-frying the chicken and I did use the ginger in the sauce (I highly recommend using ginger). Since another review mentioned the sauce was a bit thin, I added one tsp. of cornstarch to the sauce before pouring it in with the chicken. The only other change I made was to substitute peanut oil for the sesame oil - since I was completely out! I think in the future I'll use half peanut oil and half sesame oil instead. The sauce is a tad sweet and I think the bitterness of the sesame oil will balance the flavor out nicely. My husband loved this and wants me to try it over beef in the future as well.
Cut chicken into pieces (strips or chunks).
Put a little olive oil and water in the pan, heat and cook the chicken until no longer pink on medium high, stirring frequently.
Drain if needed.
Mix brown sugar, sesame oil, soy sauce, and ginger and whisk.
Add sauce and broccoli florets and lower temp to medium and cover.
Stir occasionally.
When the broccoli appears to be tender, but not mushy, it's done.
Just use your best judgement.