Asian Style Cabbage Rolls
JustJanS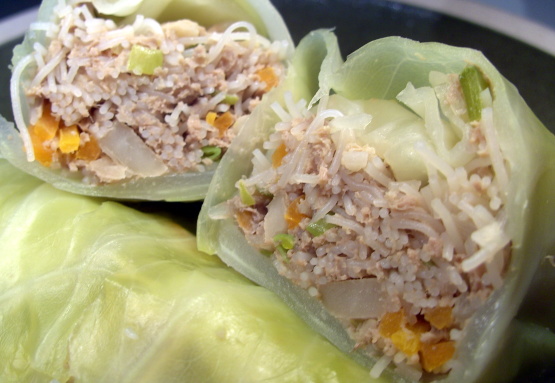 I saw Huey make something similar this morning, but I'm not paying to join HIS site. He used pork, I want to use turkey, he microwaved his in a little Asian flavoured sort of broth-I prefer to steam mine. I combined his ideas, my ideas and those of a similar recipe I found on the net to come up with these
Set up a steamer, add enough water to cover the bottom by an inch or so, and bring it to a boil. Separate the 8 cabbage leaves. Steam the leaves for 5 minutes or just until they are pliable. Cool them under cold water and set aside. Trim the thick core from each leaf.
Combine the remaining ingredients and mix well.
Lay each cabbage leaf out onto a work surface. Divide the filling into eight (around 3 tablespoonsa roll) then lay a portion on each leaf.
To roll, fold one end of the cabbage leaf over the filling. Fold in each side then roll into a log shape.
Place the cabbage rolls on a plate and chill before cooking. This recipe may be made up to one day ahead to this point.
To cook the cabbage rolls, place them in a steamer set over, not in, boiling water. Steam them for 15 minutes to thoroughly cook them. Serve them with a soy dipping sauce.