2Bleu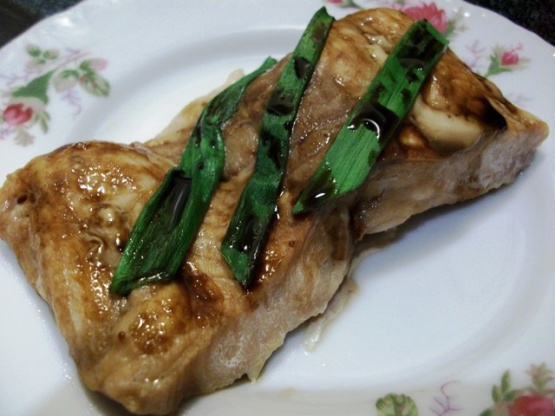 Pair with a bottle of Riesling or Pinot Grigio

Top Review by KMLWPA
This was really good and so easy to make. It was the first time I'd ever made or eaten steamed fish, so I had my doubts that it would be tasty or that the husband would like it. He said I should make this again, so I'm happy, since he's picky about salmon and I'm always looking for new ways to make it, so he doesn't get bored with the same recipes all the time. Thanks.
In a large saucepan with a tight-fitting lid, bring 3/4" of water to a boil.
Coat a steamer basket with no-stick spray.
Place the salmon, skin side down, in the basket and brush the top surface with 1 teaspoon of the soy sauce.
Sprinkle with 1-1/2 tablespoons of the scallions.
Carefully set the basket in the saucepan, making sure the basket sits above the water.
Cover and steam for 4 to 7 minutes, or until the salmon flakes easily when tested with a fork.
Transfer the salmon, skin-side down, to a serving platter or individual plates.
Drizzle with the remaining 1 teaspoon soy sauce.
Then sprinkle with the ginger, pepper and remaining 1-1/2 tablespoons scallions.