Asian Steak Dinner -- Low Carb
teresas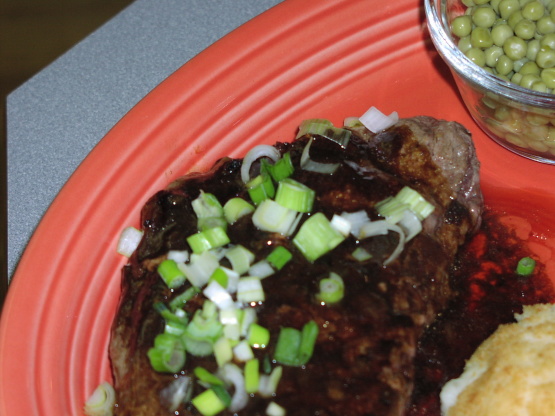 2.7 carbs per serving BUT EVEN IF YOU ARE NOT LOW CARBING IT -- TRY THIS YOU WILL LOVE IT!!!! Use the left over sauce to pour over your salad --delicious!
This was very good. I did stray, just a little, from the original recipe. I added red pepper flakes to the soy sauce mixture, cooked my steaks in the broiler, and then I threw in some frozen veggies with the steak before adding the sauce and onions on top to create more of a stir-fry. I think the best part of this recipe is definitely the sauce! Thanks a bunch for sharing with us! :)
Cut steak into 4 equal portions.
Place each piece between 2 pieces of plastic wrap.
With a heavy, flat-sided mallet, pound meat firmly but gently all over to a thickness of 1/3 to 1/2 inch.
In a small bowl, stir together broth, soy sauce, ginger, and cornstarch.
Set aside.
Melt butter in oil in a wide nonstick frying pan over medium-high heat.
When butter sizzles, add steak.
Cook, turning once, until steak is well browned on both sides and still pink in center; cut to test (2 to 3 minutes).
Transfer to a platter and keep warm.
Stir broth mixture, then add to pan, increase heat to high, and bring to a boil, stirring.
Then continue to boil and stir until slightly thickened (1 to 2 minutes).
Pour sauce over steak; drizzle with sesame oil to taste, then sprinkle with green onions.