Redsie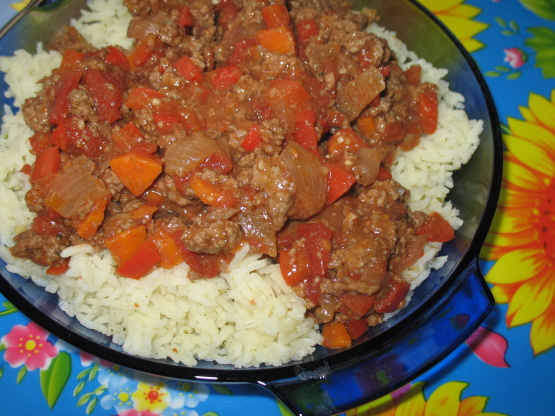 Sloppy joes with a twist! Served it with white rice and steamed veggies. An adaptation of a R. Reisman recipe. If the sauce is not thick enough, add a bit of flour or cornstarch and it will do the trick!

Ahhhhhh, I'm sitting back, just glad to have finally tried this meal. I did use duck sauce, since my hoisin sauce seems to have grown feet and walked away. It was such an excellent, subtle flavor. I didn't put the carrots in either, because my son is the only carrot fiend here and wasn't going to be home. Dad put cheese on it, but oh, well...that's one of the 4 of us who weren't gaga over the dish's original flavor. It's a 5 in my book! Thanks so much! I'm going to buy some more hoisin, make this, and then tie the bottle down. :D
In a large nonstick skillet sprayed with vegetable spray, add the.
onion, garlic and ginger. Sauté for 5 minutes or until the onion is browned. Add.
the carrot and bell pepper and sauté for 3 more minutes.
Add the beef and sauté for 5 minutes or until no longer pink. Add the tomatoes,.
cover and simmer for 10 minutes. Add the hoisin sauce, lemon juice, hot sauce,.
salt and pepper and cook for at least 5 minutes.
Serve on white rice or pasta.