Julesong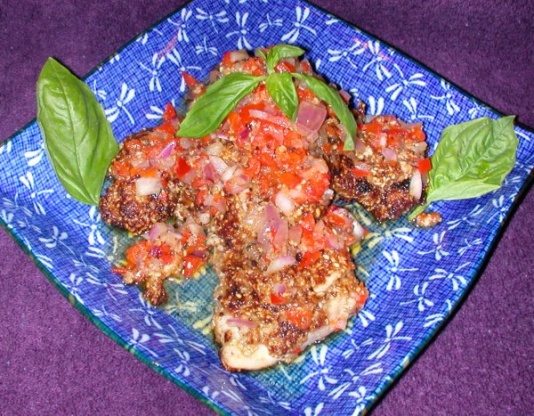 Chicken breasts are coated with plenty of crunchy sesame seeds, cooked in a skillet until golden and served with tart-sweet ginger dressing. Sesame seeds can be store up to six months in the freezer.

Question for the chef - the 'red peppers' in the dressing, are they 'sweet' ot 'bell' peppers or are they the hot 'chilli' peppers?
Combine sesame seeds, breadcrumbs, and salt in pie plate.
Beat egg in medium bowl.
Dip chicken in egg.
Dip both sides chicken in sesame seed mixture to coat.
Heat oil in large nonstick skillet over medium-high heat.
Cook chicken 6-7 minutes per side until cooked through.
Transfer to plate.
Whisk vinegar, pepper, onion, sugar, ginger, salt and crushed red pepper in a medium bowl.
Whisk in oil.
Toss chicken in with the dressing.
Transfer in a plate.
Serve with hot rice.