Mulligan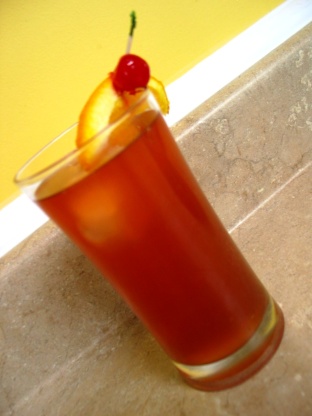 A cocktail created by John Vu and taken from Drinkstv - videojug.com. It is a compilation of many different liquors and liqueurs; I'd suggest airplane bottles (you'll get more than enough for 2 beverages) - unless you have a well stocked bar! Posted for ZWT.

Wow! This is a tall order! I made exactly as written. About half of my tall glass was alcohol. I'd recommend making this and then splitting it between two smaller glasses to chare with a friend. It also helped to put all of the bottles on one side, add 3 ingredients at a time, and then move the bottles to the other side once I used them as it was a bit difficult to remember which ones I had already put in. Yummy! Made for ZWT6.
Pour all alcohol in a tall glass filled with ice.
Add juices and garnish with an orange slice and a cherry.