ImPat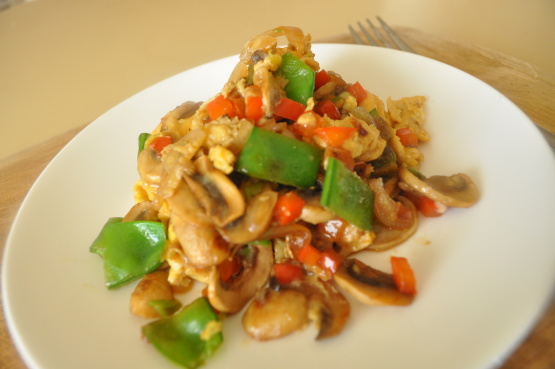 Entered for safe-keeping, from Clean Eating, Fall 2008.

Top Review by ImPat
Overall a very quick and easy midweek dish which I served over rice (which I defrosted in the microwave and heated up making for an even quicker meal) and some steamed brocolinni (picked fresh from the garden) on the side to make an enjoyable meal. For dietary reasons I halfed the amount of brown sugar but made a slight mistake in leaving the soy the same amount so the taste was a little predominant so next time I would cut this back to 3 tablespoons but was happy to leave everything else as is. Thank you KateL for a tasty mid week dinner, made for Please Review My Recipe.
In a skillet or wok on medium-high heat, brown garlic and ginger in half of the oil.
After a couple of minutes, add mushrooms, snow peas, and pepper.
Stirfry until mushrooms start to brown, and lose most of their moisture.
Add chopped scallions. Stir fry for another couple of minutes while drizzling half of the soy sauce over ther mixture.
Remove vegetables from skillet.
Add the remaining oil, then eggs.
When eggs start to bubble around the edges, stir them with a spatula until scrambled.
Just before eggs are completely cooked, add vegetables and mix thoroughly.
Serve warm, with remaining soy sauce drizzled over top after cooking.