Asian Salmon Noodle Salad
Prep 10 mins
Cook 15 mins

Leftover salmon from dinner the night before can be transformed into a tasty Asian salad for lunch the next day. Recipe by Rosie Schwartz, RD and found at lcbo.ca.
Directions
Cook spaghetti in boiling water until cooked al dente. Drain.
In a small bowl, mix together ginger, sesame oil, soy sauce, vinegar, sugar and cayenne pepper.
In a large bowl, toss together spaghetti, carrots, cucumber, salmon and coriander.
Pour in dressing and toss to coat salad.
Garnish with sesame seeds.
Reviews
Most Helpful
Excellent flavors in this salad. I did add more veggies but made as written. Loved it on this humid day.

Having lost our A/C at the height of a heat wave, I was looking for a good meal with little cooking. This fit the bill very well and has a nice flavor profile. Did substitute sliced water chestnuts for the canned corn as I had none in the pantry.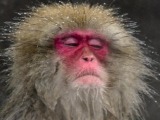 YUM. I, too, used leftover grilled salmon for this and it was delicious! I don't think it lacked anything, I loved the dressing. I think I would like it even without the salmon!