Asian Salmon Noodle Salad
Pam-I-Am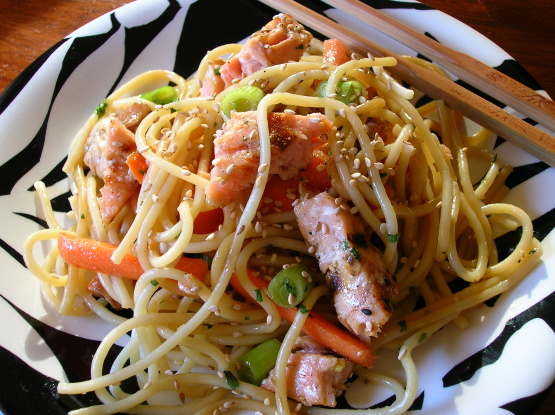 Leftover salmon from dinner the night before can be transformed into a tasty Asian salad for lunch the next day. Recipe by Rosie Schwartz, RD and found at lcbo.ca.

Excellent flavors in this salad. I did add more veggies but made as written. Loved it on this humid day.
Cook spaghetti in boiling water until cooked al dente. Drain.
In a small bowl, mix together ginger, sesame oil, soy sauce, vinegar, sugar and cayenne pepper.
In a large bowl, toss together spaghetti, carrots, cucumber, salmon and coriander.
Pour in dressing and toss to coat salad.
Garnish with sesame seeds.