Jewelies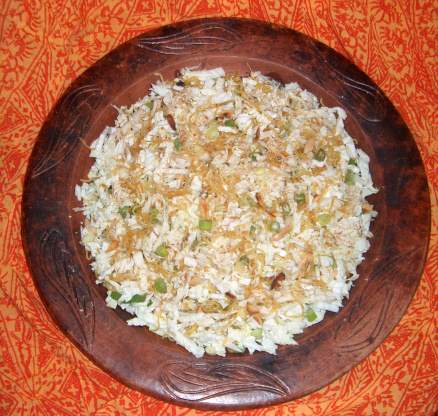 This salad is a great side dish for grilled Teriyaki chicken, pork or beef. Last night, we ran out of gas for our grill, so I made Crispy Panko Pork Chops #87166 by Marie (very good!!), using the pork tenderloin I planned to grill, cut into 1/2" medallions. I have to say we almost liked the salad better with this than the Teriyaki. I digress, sorry - this salad has many unique flavors and textures to please everyone's palate. Enjoy!!
Melt butter in a medium skillet on low heat.
Add ramen noodles, almonds and sesame seeds.
Cook, stirring often, until golden brown.
Remove from heat, cool.
In a small saucepan bring oil, sugar and vinegar to a boil for one minute.
Cool.
Stir in soy sauce.
In a large bowl, combine cabbage, onions, noodles and soy sauce mixture.
Toss well.
Serve NOTE: The prep time does not include the cool down time for the noodles and oil/vinegar/sugar mixtures.
This salad is best served at room temperature.