gailanng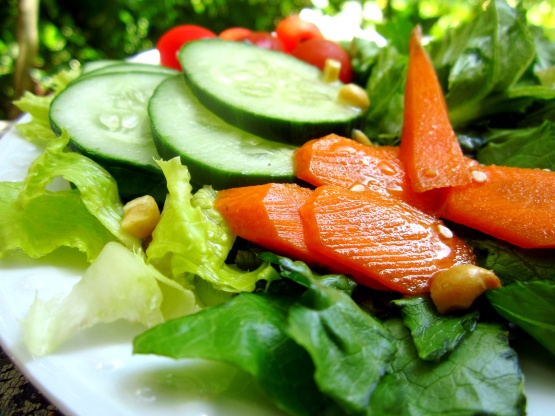 We are addicted to this salad! It goes very well with sushi or as a meal itself with grilled chicken on top. This is one of my most requested recipes.
Top Review by moxie
Erinn, this is just fabulous!!!!! I made a double-batch of the dressing and marinated some chicken tenders in it overnight, then grilled them and added them --what a wonderful light meal!!! I wanted it a little lighter, so I added just 1 ounce of oil to the dressing. It's so flavorful, I never missed the fat. Thank you so much for sharing what is sure to be a regular meal in our family.
Mix dressing ingredients in a jar and shake.
Wash and tear lettuce into a bowl, add carrots, peppers, celery to bowl and toss.
Put dressing and bowl on table with bean sprouts, nuts and sesame seeds in individual bowls and tell your guests to create their own salad.