Peter J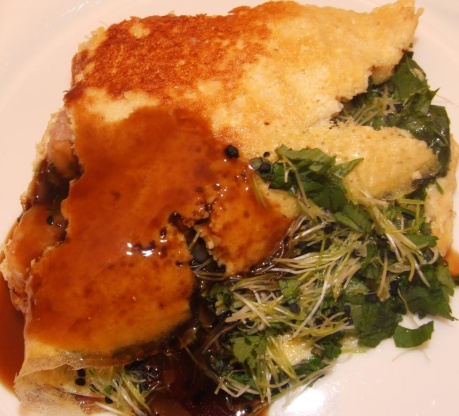 This from the local paper the West Australian and makes for a nice weekend breakfast or brunch or light meal. Though I made it without mint or coriander. I made as one large omelette and divided.

This was OK but I wish I'd also made it without the mint or coriander, while I like both it really was just too much and overpowered it. The actual omelette was great so it would have so many great possibilities and I think a light sweet & sour sauce would work really well over the top as well.
Lightly combine eggs, sesame oil, soy sauce, garlic and ginger.
Heat a medium frypan to hot and add the vegetable oil.
Add the egg mixture and give it a few good stirs to move the set mixture of the base.
When almost set, arrange the prawns down the middle.
Remove from the heat and then add the herbs and the sprouts. Fold the omelette and slide on to a serving plate.
Combine the oyster and the soy sauce and drizzle it over the omelette.