Redsie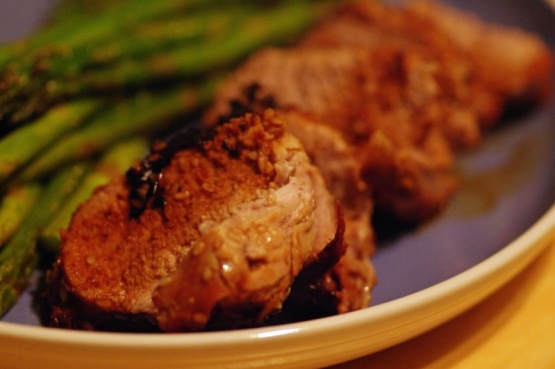 Light and tasty! You'll NEVER guess that you're eating healthy!!

This as a fantastic recipe, Erin. My family loved it! I do agree with Kim, make sure you put foil under it, it can be messy, but delicious. I threw in a couple TBSP. of a peach/apricot jam I had and gave it a bit of a fruity flavor. It is very simple and quick to throw together, and my tenderloin came out very moist. Thanks for sharing your recipe!
Preheat oven to 425 degrees.
Remove all visible fat from pork; place in a shallow baking pan.
In a small bowl, whisk together remaining ingredients except sesame seeds and onions.
Brush honey mixture over pork; sprinkle with sesame seeds.
Bake uncovered for 45 minutes (or until meat thermometer reads 160 degrees F).
To serve, slice thinly and garnish with green onions.