Asian Pork Balls With Napa Cabbage
Mercy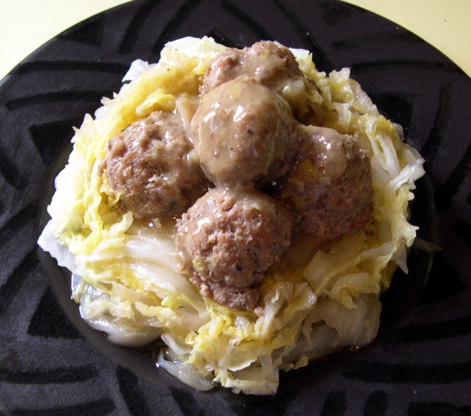 Two of my most favorite ingredients in one recipe...sesame oil and sherry. What more could you ask for? I found this recipe online when I was low-carbing (just omitted the cornstarch and thickened the sauce by boiling it down) and then I tweaked it a little bit to suit my tastes.

The combination of meatballs and cabbage was great - I did add to the recipe quite a bit to 'brighten' it up a little. Still loved the combo of flavors and textures - it's a very good and unique recipe that is easy to make.....I will be making it again soon. It's healthy too, especially if you use ground turkey. To 1 pound of meat I added the same ingredients as the recipe calls for in two pounds of meat; except for onion and water chestnuts - I stuck with the correct proportions. I also added 2 tsp of minced garlic and a couple tablespoons of chopped fresh cilantro to the meat mixture. I sauteed 1/2 of a med/large sweet onion (sliced) in the dutch oven with some sesame oil, until golden prior to adding the sauce mixture and meat balls (I added a couple tsp of ginger and garlic to the sauce and used a 14oz can of chicken broth instead of 1 cup. When time came to add the cabbage I inlcuded the remaining water chestnuts sliced. To the final sauce I added 1 T of rice vinegar and 2 t brown sugar and 1.5 T hoisin sauce, and the cornstarch mix. This really made the sauce come alive. Next time I am going to throw a tsp or two of red pepper flakes in the sauce at the beginning and heat up the dish to more of a szechuan style.
Mix together the first seven ingredients and form into golf-ball sized balls.
Place the pork balls on a baking sheet and bake at 375°F for 25 minutes.
Place the pork balls in a large pot (Dutch oven) with the 1 cup of chicken broth, the 1 tablespoon soy sauce and the 1 tablespoon sherry and bring to a boil.
Cover, reduce the heat and simmer for 20 minutes.
Add the napa cabbage, cover, and simmer for 10 more minutes.
Dissolve the 1 tablespoon cornstarch in the 2 tablespoons cold water.
Remove the pork balls and cabbage from the liquid and arrange on a serving platter.
Stir the cornstarch slurry into the remaining liquid and bring it back to a boil.
Once the sauce has thickened, pour it over the pork balls and cabbage.