teresas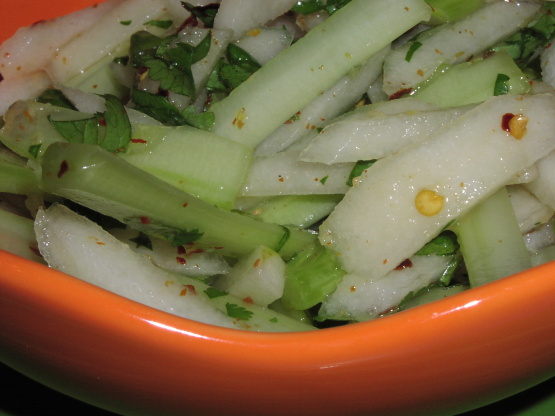 This combination sounds kind of strange, but believe me, it is excellent! My husband went crazy over this, he ate the whole thing by himself. We love spicy food and this really hits the spot when we want a cold salad! Recipe compliments of Gourmet.

Delicious! I LOVED this salad!! Beautiful to look at as well as great tasting. My rice vinegar was not sweet so I added honey, but otherwise followed the recipe. This reminded me a bit of fruit salsa. I could have eaten the entire salad myself but alas, had to share with Dh. I made 1/2 the recipe shown so I had less cutting to do, but the 45 minutes prep time seems a bit long. I think you can do it in less time. The recipe doesn't state it, but I peeled the pears. Thank you, Grace Lynn!
Peel strings from celery with a Y-shaped vegetable peeler and cut celery into 1/4-inch-thick matchsticks.
Whisk together lime juice, rice vinegar, and ginger and stir in celery and remaining ingredients with salt and pepper to taste.
Let stand at room temperature 15 minutes before serving.