Asian Noodle Salad Quick and Easy Version
Cathy17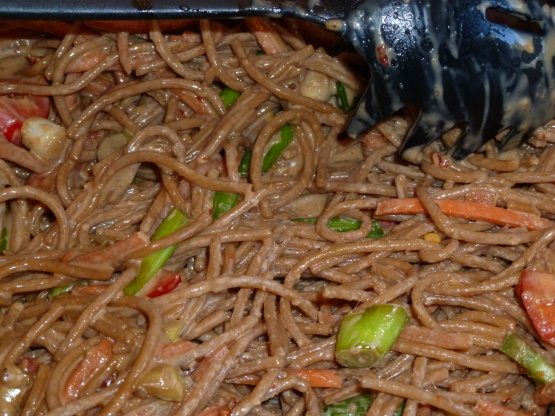 I concocted this while in a pinch over not having all the ingredients on hand for my traditional Asian Noodle Salad to take to a potluck. I remembered I had Kraft Asian Toasted Sesame Dressing and Marinade on hand and how much it resembled the dressing in my other recipe. I made this very quickly and it was completely devoured at the potluck. I had many requests for the recipe. This recipe is potluck size, but you can adjust it to the size of your family or number of desired servings. One pound of spagetti gave about 30 servings and it was ALL gone. Not a drop left.

I was in a need of a quick easy recipe for a BBQ and this did the trick. I couldn't find the Kraft dressing in my grocery store so I subbed with the Newman's Own as did the other reviewers. The recipe is easy to build upon and adjust to your tastes. I don't like to bite into big chunks of garlic so I grated two cloves right into the dressing along with grated fresh ginger. I also doubled the amount of dressing, scallions, ginger, and garlic because because I almost doubled the volume of the salad by adding added extra veggies (edamame, broccoli slaw, and shredded carrots), cooked cubed chicken breast, and some toasted cashews. This was delicious and easy. I even scooped out a little container's worth to leave at home to enjoy later after the picnic. Will definitely make this again. I might try adding fruit like madarin orange sections or pineapple chunks next time for a different twist. Thanks for the recipe.
3-4

green onions, chopped in long strips

1

large carrot, peeled, julienned

4.92

ml garlic, from the jar (or to taste)

4.92-9.85

ml chopped fresh ginger, from the jar (or to taste)

118.29-236.59

ml kraft asian toasted sesame dressing (adjust for desired flavour or consistency) or 118.29-236.59 ml marinade (adjust for desired flavour or consistency)

1.23

ml chili pepper flakes (adjust to taste)

59.14

ml toasted sesame seeds (adjust to taste)
Boil pasta in salted water til cooked. Drain and run cold water to cool.
While pasta is cooking, chop onions and carrots. Toss into a large tupperware container.
Add ginger, garlic and optional red pepper flakes to the carrots and green onions. Stir to mix thoroughly.
Shake Kraft Asian Toasted Sesame dressing and pour into the carrot/onion/ginger/garlic mixture. Stir to thoroughly coat. Add more or less to your desired coverage. A little goes a long way.
Once pasta is completely cool, slowly add to the dressing mixture and toss until coated. Add more dressing until coated to your satisfaction/taste. You don't need alot because it has quite a bit of flavour.
Add more ginger/garlic/red pepper flakes for desired taste. Add sesame seeds.
Cover with a lid, put in fridge to chill and keep cool until ready to serve. Just before serving you may want to add a bit more dressing to mix around.